If you and your dog seek out and welcome opportunities to interact and spend time with people, then this volunteer program may be for you!
Carolina Dog Training, LLC can assist you in the process of becoming a Pet Partner Therapy Animal Team as well as provide the necessary training for your dog to attain the basic obedience skills required to pass the Team Evaluation!
The latest research shows that the Human-Animal Bond through Animal Assisted Therapy comes with a whole host of benefits:

A therapy dog has a positive effect on patients' pain level and satisfaction with their hospital stay.

The presence of an animal can significantly increase positive social behaviors among adults and children alike.

Pet Partner Teams Volunteer in schools, libraries, hospitals, nursing homes, and many other venues.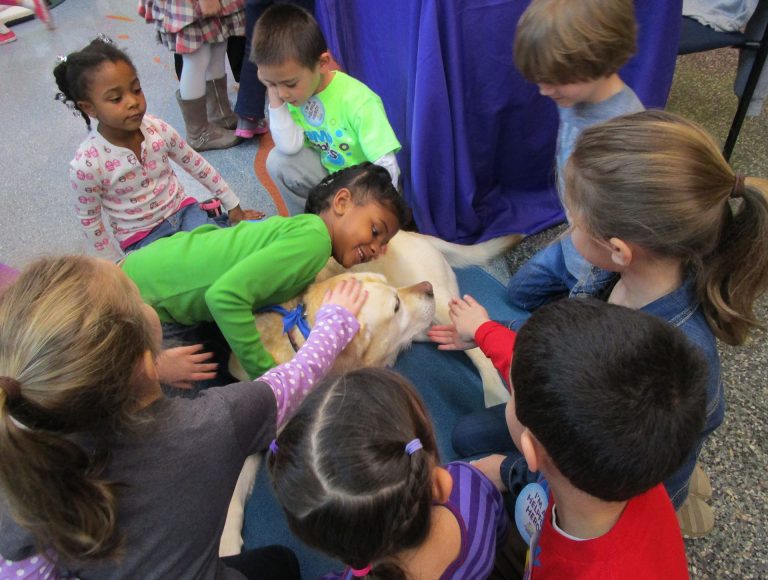 Requirements for Prospective Pet Partners Therapy Animals:
Are at least 1 year old at the time of evaluation and have lived in the owner's home for at least 6 months.
Must be reliably house trained. Waste collection devices are not permitted.
Be currently vaccinated against rabies.
May not be fed a raw protein diet
Have no history of aggression or seriously injuring either people or other companion animals.
Demonstrate good basic obedience skills, such as walking on a loose leash, and responding reliably to common commands such as "sit," "down," "stay," "come" and "leave it"
Welcome, not just tolerate, interactions with strangers
Be comfortable with wearing Pet Partners Approved equipment.
Required Steps to Get Started:
Create an account in the Volunteer Center:  PET PARTNERS
Take the Pet Partners Handler's Course – This is not a dog training course! Rather, it provides critical information regarding your responsibilities.  The course can be taken either in person, if an instructor lives in your area, or online.
Animal Health Screening Form - This form must be signed by your veterinarian, confirming that your dog is healthy and able to participate in the program.
Team Evaluation - This is a mock therapy animal visit conducted with a Pet Partners licensed evaluator. The evaluator will assess your ability to interpret and manage your animal's behavior, as well as your animal's response to your cues. Make sure to have the Acceptable Equipment ready for your evaluation!