Provide a Staycation for Your Dog!
We offer a premium concierge service for dogs Trained By Elaine™ that practice and reinforce good manner skills so they last a lifetime!  Our trained and dedicated Pack Sitters™ offer much more than boarding or stressful kenneling and go far beyond a typical dog-walking or pet-sitting company! We provide a unique opportunity for dogs currently in training or graduate dogs to practice and polish their skills with an experienced Pack Sitter™. Our Pack Sitters ™ are trained to use all of the tools and techniques to ensure that your dog stays on track while remaining in the familiar, stress-free environment of their own home and following their normal routine.
If your dog is lacking loose-leash walking skills, then look no further! We can train your dog to heel at your side in only a session or two! Simply CONTACT TRAINED BY ELAINE™ to set up an initial assessment and then you, too, can experience the enjoyment of loose-leash walking with your dog at your side without pulling even with everyday distractions!
Choose from 2 concierge services: Daily Pack Walks or Stay-at-Home with an experienced Pack Sitter™ while you are away. You may also combine these services to fit your specific needs. Our Pack Sitters™ undergo background checks conducted by a retired law enforcement officer with over 30 years of experience.
"Pack Sitters has been an answer to my prayers! Thanks to Megan, who is reliable, friendly and very professional, our family can travel without care. Our two dogs adore her and are so well taken care of while we are away." Ashley Theis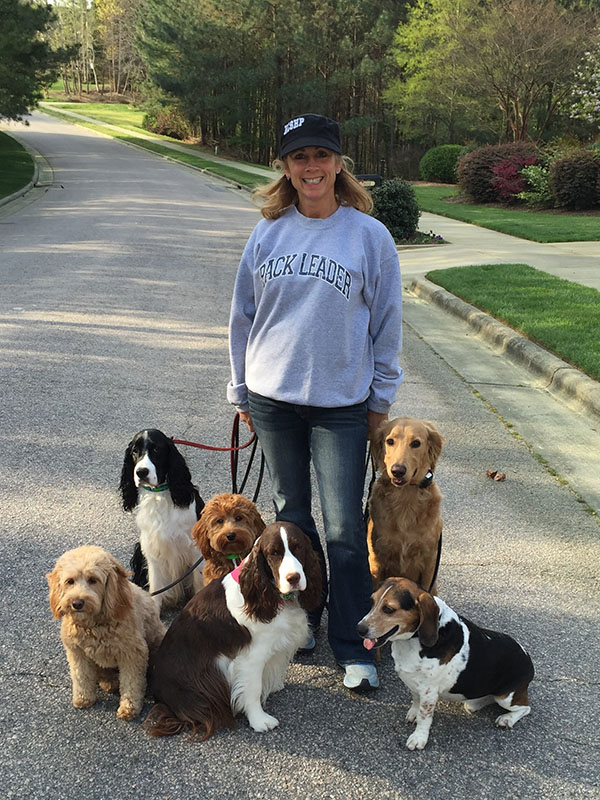 All Pack Sitters™:
Personally Trained By Elaine™
Successfully complete workshop requirements.
Undergo background checks that meet our high standards!
Insured and bonded
Huge animal lovers!
Benefits:
Daily practice and reinforcement of good manners skills previously taught in training!
Structured, focused walks that leave your pup tired, happy and fulfilled
Knowledgeable, dedicated, experienced staff
Peace of Mind knowing that your dog(s) is in capable, loving hands!
Daily communication from your Pack Sitter
Daily Dog Walking:
A tired dog is a happy dog! While you're at work or just away for the day, your dog will be well-cared for! All dogs practice structured, focused walks that drain energy and reinforce the training skills previously learned when Trained By Elaine™. Additionally, dogs receive fresh water and / or feeding, and medication, if required, along with potty breaks before and after walks, and plenty of TLC, of course! Fee includes a minimum of 20-minute reinforced skills walk. Let us know what your needs are.
Stay-at-Home:
Planning to be away for a day, a weekend or longer? No problem! Rest at ease knowing that your dog(s) will enjoy the familiarity of remaining in their own home environment while their humans are away! Best of all, you can enjoy the security of knowing your home and animals are safe, well-cared for and following their normal home routine! Included: minimum of two twenty-minute structured pack walks per day, reinforcement of all the good manner skills in and out of the home that were originally taught when Trained By Elaine™, potty breaks throughout the day and late night, social/play time, feeding, and lots of TLC. Home care is included in this option: mail retrieval, garbage/recycling, and plant care. Let us know what your needs are.
Getting Started: 
Contact us to schedule our free, initial consultation. At that time, you and your Pack Sitter™ will meet at your home with your Trained By Elaine™ dog, review your dog's routine, and get to know each other, complete all paperwork, exchange two sets of house keys –one for your Pack Sitter™ and one to be kept in our Trained By Elaine™ office.
Not Trained By Elaine™?
No problem! You can schedule an initial consultation to learn how you and your dog can enjoy loose-leash walking even with typical distractions in only a session or two! Contact us to get started!